Ek Aur Safa..!!!
Ajj
2nd Feb
Hai,Shayad Kise Ke Liya Is Main Koi Naye Baat Na Ho...
Paar Yeh Tareekh Aur Un Se Baabasta(Jhoray)
Kahee Yaadain,
Kahee Din,
Kahee Baatain, Mere Liyeh Buhat Aham Hain.....
Yeh Sari Haseen Yaadain
Haseen Lamhain,
Mujhay Apnay Piyaray Aur Laadlay Betay Se Jhoray Rakee'n Hai'n.!!!
Paar Ajj Ka Din
Woh Haseen Din Hai ,
Meray Zindaghi Ka ,
Aur Meray Ghar Walo Ke Zindaghi Ka...!!!
Is Liyeh Ke Ajj Se Main Ne Apnay Piyaray Betay Se Munsalik,
Us Ke Yaadain,
Lamhain ,
Apnay Dil Main Kise Khazanay Ke Tarhaa Mehfozz Kar Rakhee'n Hain....!!!
Ajj Jaab Main Tumhare Pasandi -Da Cake ,
Cake Paar 28 Candles Jalaye'n.........
Tumhara Muntazir Hon,
Ajj Bhi Usii Tarha,
Kamray Ki Lights Off Kiye,
Tumhain Saab Se Pehlay Surprise Dehnay Ke Intaizar Main,
Tumhare Room Main Baitha Hon.....
Aur Darwazay Paar Nazar Jamay'aen.....
Tumhare Intaizar Main,
Tumhara Muntazir Hon
Betay
Socho'n Main Khoya
Abb Yeh Soch Raha Hon........
"MY BELOVED SON,I HAV LIGHTED 28 CANDLES ON UR CAKE
ITS UR 2nd BIRTHDAY IN HEAVEN,
I WONDER MY SON,
WHAT UR WISH WILL BE TODAY,
WHAT U DREAMED N WISHED ALWAYZ ,
MY ALLAH FULLFILLED ALL UR DREAMS....
BUT IF U ASK ME,MY BELOVED SON WHAT GIFT I WOULD GIVE U TODAY
MY DEAREST WISH FOR U
IS,
MY BELOVED SON,
I LOVE U AND MISS U I CAN'T WAIT TO SEE UR SMILE,
PLACE A KISS UPON UR CHEEK AND HOLD U TIGHT FOR A WHILE........"
.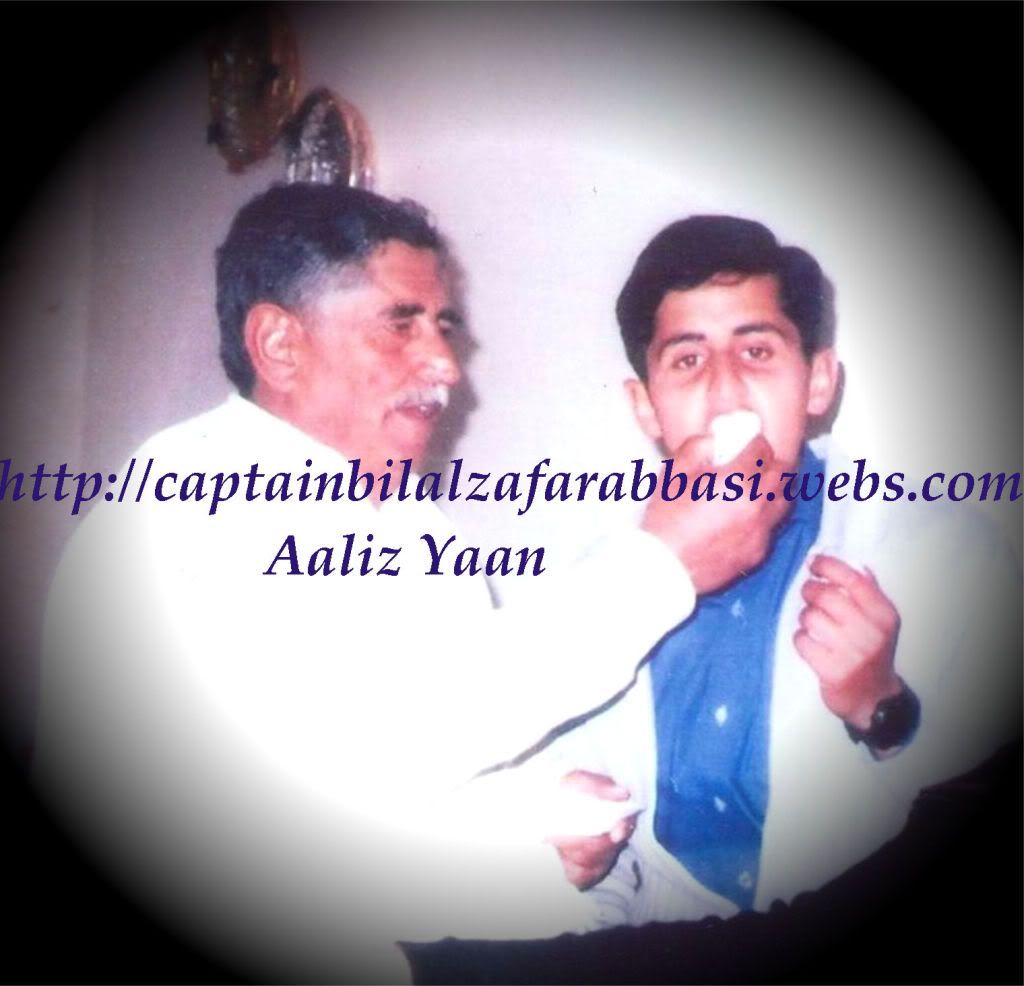 Abb Main Khamosh Baitha
28 Saal Pehlay Ka Woh Haseen Din Yaad Karta Hon....
Jaab Main Tumhare Ahnay Ke Intaizar Main
"Rasheed Memorial Nursing Home"
Ke Waiting Room Main Baithaa.....
Apnay Allah Se DuaGhoo Tha.....
"Meray Rab Tu Mujhay Kis Khushii Se Nawaztaa Hai,
Abb ke Tu Mujhay Naymat Ataa Kartaa Hai Ya Rehmat.......
Achanak Nurse KA Tumhain Lekaar Ahna Aur Mujhay Mubarak bayad Dehna........
"APP KA BETA".....
Meray Laadlay Betay Main Bata Nahi Sakhtaa,
Mere Khushi Ka Alam Kiya Tha,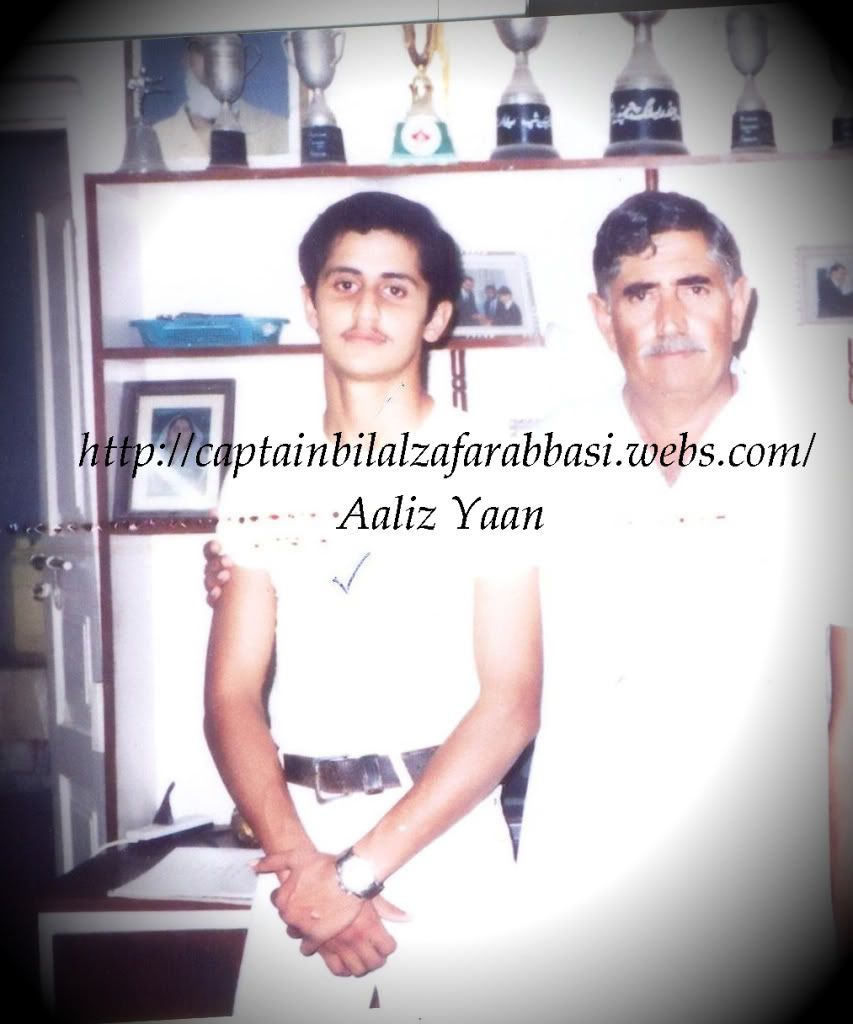 "THE MOMENT U WHERE BORN MY BELOVED SON,
THE INSTANT,I HELD UR EYES GAZING INTO MINE,
ENAMORED BY UR CHARM ,
MY BELOVED SON,
I SPOKE TO MY ALLAH,
THANKING HIM FOR THIS BLESSING PLACED ON MY ARM...!!!
I PRAYED THAT ALLAH WOULD GUIDE ME SO THAT,
I MIGHT DIRECT U, IN HIS WAYS THAT NO MATTER WHERE U TRAVELLED,
MY ALLAH WOULD BE WITH U,
THE REST OF UR DAYS AND UR LIFE"
.
Main ne Kabhi Nahi Socha Tha Meray Laadlay Betay Bilal,
Tum Mere Zindaghi Main Baiz-e-Rehmat Aur Naymat Baan Kaar Ao Ghy Aur Rahoo Ghy Hamesha Mere Zindaghi Main.
Tum Mere Zindaghi Main Baypannah Khushiya'n Lay'en ...
Ke
Mere Zindaghi Hi Badal Kaar Rakh Dih...
.
Main Ne Kabhi Nahi Socha Tha Tum Apni Zindaghi Main Asaa Kuch Kaar Jao Ghy ke Mujhay Sari Zindaghi,
Bahadur,
Laiq
Imandar
Watan Parasth Betay Ka Baap Honay Ka Taj Pehna Jao Ghy.........
.
Jaab Main Tumhare Bachpan Main Aur Abb Ke Betay Paar Nazar Dalta Hon Tu Heeran Hota Hon...
Umeed Tu Thi Tumhare Jazbay Ko Dekh Kaar TumPaar Yaqeen Na Tha......
Tumhare Kamzoor Sehat Aur Bemaar Rehna Bachpan Main
Doctors Ka Bhi Yahi Kehna Muskhil Hai Tumhara Sehat Yaad Hona...
Shayad Muhay Bhi Umeed Na Thi....
Paar Allah Ne Mujhay Tumhare Shakal Main Naiq Tofa,Naiq Bilal Ataa Kiya Tha ..........Tu Main Kaisay Umeed KA Daman Chor Dehtaa........
Phir Ek Din Jaab Tum Apni Class 5 Main Behosh Ho Gaye Thy,
Aur Ghar Phone Aya ,Tumhare Behosh Honay Ki Itlaa Milee
Main Aur Tumhare Maa Pareshan Haal Tumhain Lekaar Hospital Ponchany.....
Tumhare Behosh Honay Ki Wajha ,Doctors Ne Tumhare Kamzor Sehat Batayee...
Ghar AhKaar Sochaa,
Baat Ki Tumhare Maa Se
Abb Se Tumhara Main Khass Khayal Rakhon Ghaa................
Apnay Baqi Bachon Ke Muqablay..................
Tumhain Yaad Hai Beta,Jaab Main Tumhain Aur Tumhare Bhai Ko 3.30 Am Excercise Karwata..............Jogging Karwata
Phir Namz ke Liyeh Leh Jata Aur School Rawana Karta....
Aur Phir Beta Tumhare Progress Bhi Parhaye ki Tarha AWAL Ahnay Laghi.....
.
Phir Ek Din Tumhain Yaad Hai ,Meray Laadlay Betay......Tumhara Cousion Ne Ah Kaar Mujh Se Kaha.........
"Mamoo Mujhay kuch larkay maar rahain thy.....Balli aur Zarri Khamosh Kharay Dekh Rahain Thy"....
Phir Mujhay Yeh Esaas Howa Aur Dar Bhi .....Meray Laadlay Betay..............
Ke..
Main Tumhain Bahadur Jawan Dekhna Chata Hon......................
Kaheen main Tumhare Dar Se,
Apni Khawaishain Tumhain Lekhar Poori Na Kaar Pao'n......................
Phir Main Ne Tum Dono Bhaiyon Ko karate club Main Admission dilwaya.......................Tum ne Waha Bhi Kamiyabiyan Payee Aur Jald Hi Black Belt HolderAur Instructor Baan Ghaye....
Meray Piyaray Aur laadlay Betay Bilal..!!!
Mujhay Khushi Aur Fakhar Is Baat Ka Hai,
Main Jis Tarha Tumhain Dekhna Chahta Thaa
Tum Wase Hi Banay
Tum Ne Haar Arzoo Poori ki...!!!
Meray Laadlay betay Bilal,
Tum ne Mujhay Logo Ke Samnay Fakhar Karnay Ka Taj Pehnaya....
Kabhi Kabhi Sochta Hon
Shayad 26 Saal Allah Ne Tumhain Is Liyeh Meray Daman
Meray Ghar
Mere Zindaghi Main Rehna Diya,Takay Allah Mujh Se Tumhare Parwarish Karwaye'n
Mujhay Fakhar Hai
Tum Paar
Meray Betay,Tum Ne Meray Rab K Samnay Sharminda Nahi Honay Diya....
Main Shukhar Adaa Karta Hon Apnay Raab Ka
Ke Usnay Mujhay
Naik Aur Honhaar Beta Ataa Kiya.....
Kabhi Kabhi Mujhay Laghta Hai Meray Piyaray Betay Tum Shayad Is Duniya ke Liye Hi Nahi Banay Thy,
Q ke Tum Is Duniya Ke Logo Se Mukhtalif Thy, aur rahon Ghy Hamesha......
Main Ne Yeh Bhi Nahi Socha Tha Tum Itne Jald Us Mukham Taak Pohanch Jao Ghy
Jis Mukham Ke Tum Arzo Kiya Kartay Thy.............
"I PRAY NOW MY SON
MAY ALLAH HOLD U IN HOLLOW OF HIS HANDS,
WITH HIS TENDERNESS
HIS GENTLENESS
AND CARE...(AMEEN)
.
TIME HAS ACCELERTAED MY BELOVED SON AND BEFORE ALONG
NOW U NO LONGER NEEDED ME TO HOLD UR HAND
B,CUZ ALLAH IS HOLDING UR HAND IN HEAVEN...!!!!
MY BELOVED SON
ON UR OWN,
BEING MADE IN THE IMAGE OF ALLAH UNIQUE
ONE OF KIND
HOW EXTREMLY PRECIOUS U ARE,
BY FAR
MY BELOVED SON N MOST BLESSED SON BILAL....
HAPPY BIRTHDAY TO U.....
Abb Piyara BeTay Main Cake ,
Cake Paar SAjih Candles,
Aur
Pooray Gharwalo'N ke Saath Tumhare Birthday Cake ,Tumhare SHANGHAY MAAR MAAR MAQBARAY Paar Tumhara Cake Kaataa Hon Aur Tumhain Mubarak Bayadiya'N Dehta Hon..Tumhare Shahdat Paar...!!!!!
From ur Loving Father
Remembering n sharing with u ur precious memories.....!!!!