Apne Piyare Betay Ke Naam Us ke Yaadon Ka ik Safa....
Allah Rab-ul-izzat Ki Amaan Main;
Apne Piyare Betay Ke Naam.....Mera Bilal........!!!
Meray Piyaray Betay ,Ajj Jaab Main Tumhare Kamray Main Gaya...Mere Nazar Tumhare Maiz Paar Rakhi..us File Paar Gaye....Jisay main Parthay Parthay Ik Chotay Se Kaghaz Par Likhain Us Remarks Paar Ja Rukhaa...
Joh Beta Tumhare Pehlii Shahadat Ki Barsi Paar Tumahare "SAAD 103 L/C"Ke Ayen Haseen Guldastay Main Sajha Kaghaz Aya Tha.....
Joh Kuch .............Tumhare Shan Main Remarks Asay Likhain Thy.....
"JAAN SE PIYARA AUR JAHAAN SE PIYARA BILAL.... ASA KAHAA SE LAYE'N K TUJH SA KAHEEN JASAY ".......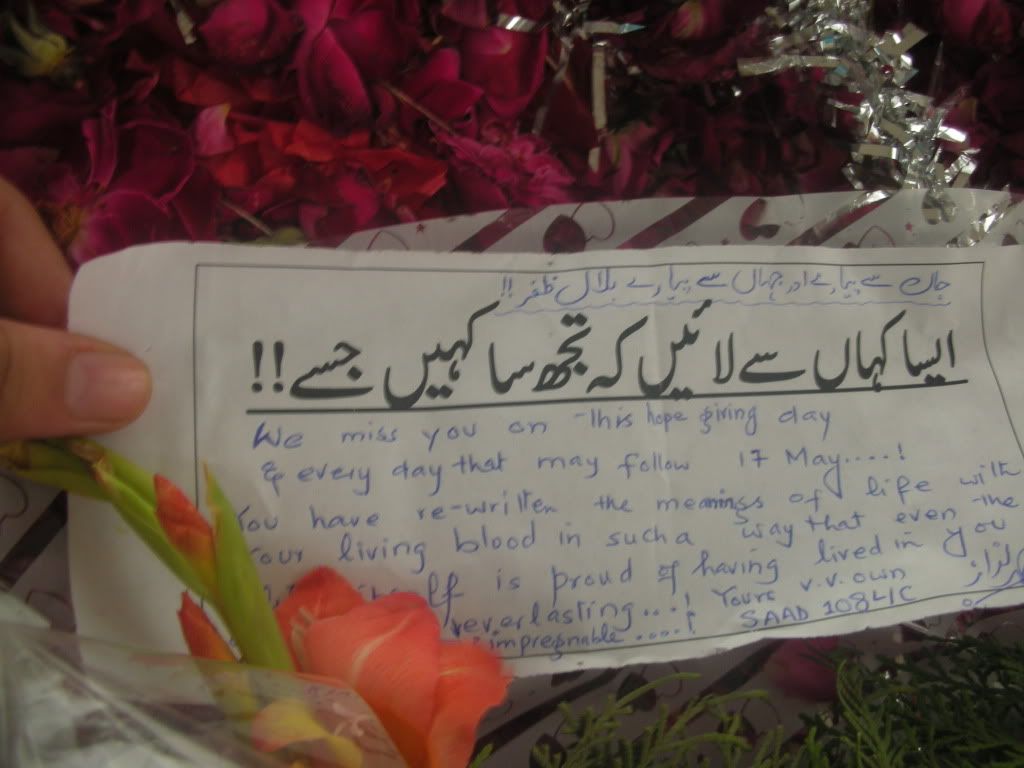 Piyare Betay .............Paarh Kaar Woh Piyare Remarks Tumhare Shan Main,Main Betay Balli...............Main Kitnay Khayaloo'n Ke Manazilain Chalta Chala Gaya....!!!
ke
Betay,Main Tumhare Itnay Qaree Ah Pohanchaa ke Main Ne Tumhain Apnay Samnay Paya.....
Aur Tumhain Chuh Liya.......
Tumhare Woh Fakaar Se Bulaand PayShani
Woh Faristaa Muskhurahat.....!!!
Betay Main Tumhara Chehra Dekhta Hi Chala Gaya.....!!!
Main Tumhain Khush Aur Fakhar Se Khara paya Us Manazil Paar,Jis ki Tum Asar Khawaish Apne Maa Se Kartay Thy...
Us Mukhaam Ki Jis ke Tum Dua Kartain Thy....
Meray Piraye Rab ne Tumhain Ataa Kiya....!!!
Betay Jaab Main ne Tumhain Izzat Ke Buland Martabaay Paar Faiz Dekha....
Betay
Main ne Buhat Hi Piyar Se Aur Shafqat Se,
Tumhare Payshani Choom liii...
Main Buhat Khush Hon Beta
Jisay Main Shayad Lafzon Main Na Bayaan Na Kar Pao'n.....
Main Beta Hamesha Tumhare Baatain Yaad Karta Hun.. Baray Fakhar Se...Kabhi Kabhi Tumhare Baatain Kartay Kartay Beta Ashq-Bahar Bhi Ho jata Hun....!!!
Kabhi Sochtaa Hun Agar Tum Mujhay Allah Rab-Ul-Izzat Ke Taraf Se Allah Ka Tofaa Baan Kaar Na Inayaat Hotay Tu Main Kiya Kartaa.......!!!
Tumhare Baghair Mere Zindaghii Ke Kiya Mainay Hotay........!!!!
Betay Balli,
Yeh Harghiz Nahi Hai ke,Main Apnay Baqi Bachon Se Muhabbat Nahi Karta.............Buhat Karta Hon....!!!!
Paar Na Janay Betay Balli ,Tum Main Asii Kiya Kashish Thy,Kiya Baatain Thy Tumhare......
Shayad Woh Bachpan Se Sachaye Aur Haq Ki Baatain Thi.....
Woh Tumhara Dosro'n Ke Khyal Main Din Raat Karna....
Apnay Barhay Aur Choto'n Ka Apne Masrofiyaat Se Waqt Nikal Kaar Un Tamaam Rishtoon Ko Pochnaa..Khyal Karna..!!!
Shayad Yahi Baatain Thi Joh Tumhain Saab Se Munfarid Rakhain Thii......!!!
Main Sochtaa Hun Koi Tu Kami Rahee Hon Ghy.....
Phir Mujhay Tumhara,Mera aur apni Maa ka Khayal Karna Yaad Ah jata Hai...
Mera Tahajuud ki Namz Ke Liye Tumhara Surah Rehman Laga Kaar Mujjhay Uthaa Naa..
Mere Liyeh Janamaz Bechaa Kaar Mere Chair Rakhna..
Mere Namz Khatam Honay Se pehlay Apne Maa aur Meray Liya Chaai Lanaa...
Yaad Ahtaa Hai...
Paar Betay Jaab Main Tumhare Tamaam Umer Ke Saal
Saal Main Chupay Mahinay Aur Din...
Sochtaa Hun Tu Lajawab Ho Jata Hun.....
Tumhare Latadad Khubiyaan
Mujhay Heeran Kar Dehtii Hain......!!!
Yahi Wajha Hai
Joh Tum Meray Baqi Bachon Se Munfarid Thy Aur Hamesha Rahon Ghy..........Meray Betay.......Balli
Tum Jaantay Hon
Ke Tum Mere Dil ke Itnay Qaree'n Rahain Ke Tum Mere Saansoo Main Baastay Chalay Ghaye.....!!!!
Meray Betay Tumhain Yaad Hai,
Jaab Main Ne Tumhain Hasi Hasi Main Kaha Tha,
Jaab Tum Meray Kadmoo'n Main Baithay,Kise Kaam Main Masroof
Main Ne Buhat Hi Piyar Se Jaab Tumhain Dekha aur Kaha Tha,
"Beta Balli Main Tumhare Shadi Nahi Karon Ghaa.....
Tum ne Teerchee Nazar Se Mujhay Muskhuratay Hoye Dekha...
Main Ne Tum Se Jaab Kaha ,Pocho'n Ghy Nahi Balli.....
Tum Ne Phir Wasi Nazar Se Dekha aur Kaha
Q ABBU..
Tu Main ne Tumhain Jawab Diya
Muskhuratain Hoye'n
"BALLI,I LOV YOU SO MUCH MY SON,I AM AFRAID,I WILL NOT BE ABLE TO SHARE MY LOVE WITH UR WIFE..."
Mere Baat Sun Kaar Tumne Jawab Diya
"ABBU MY FIRST PRIORITY IS MY WORK AND MY AIM
FILHAAL ABBU I'M NOT READY FOR MARRIGE,JAAB MUJHAY LAGHAY GHA MAIN APP KO BATA DONGHAA..."
Tumhare yeh jumlay Abb Bhi Meray Kaano Main Ghunjatay Hain...
Meray Piyaray Betay...!!!
Haar Maa Baap ki Khawish Hoti Hai Apnay Betay Ke Sehray Ke Phool Kheltain Dekhain......
Mere Bhi Tum Ko LehKaar Piyaray Betay Asii hi Jazbaat Thy......
Paar Meray Piyaray Betay Kabhi Kabhi Tuharay Sehray Ke Phool Khawab-o-Khayalon Main Dekhtain Hi Dekhtain Ajeeb Aur Haseen Khayalon Main Chalta Chala Jata Hun....!!!!
Betay Mian Itna Dour Chala Jata Hon......
ke
Tumhare Piyaray Bachoon ke Khawab Saja Lehtaa Hon.......Unhain Apne Ghoud Main Khelaa Lehta Hon......Piyar Kar lehta Hon......
Phir Achanak Betay Q Tumhare Woh Jumlay Meray Khayal-o-khawabon se Takra Se Jatain Hain....
ke
"ABBU APP KI AHNAY WALI 10 NASLOON MAIN BILAL JASA NAHI HONGHA....BASS BILAL HI BILAL RAHAIN GHA....LOGO KE YAADON MAIN ,LOGON KE BAATON MAIN...."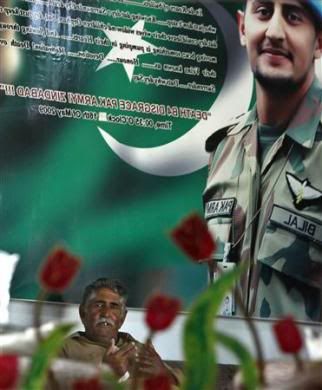 Tum Theek Hi Kehtay Thy,
Meray Laiq HonHaar Betay,
Tum Jasa Dosra Koi Nahi,
Meray Piyaray Betay
Main Abb Fakar Kartaa hON....
Tum Paar Apni Tarbiyat Paar,
Jis Jahaan Tum Ho,
Mere ParwardiGhar ke Hai Tum Paar Khass Rehmat...
Main Mutma'een Hon,
Tumhain Khush Dekh Kaar
Us Jahaan Main Abaad Dekh Kaar.
Meray Piyaray Betay Balli....
Main Bhi Khush Hon....KE Tum Abb Bhi Meray Pass Ho,Mere Saansoo'n Main Basay Hon.......
Meray Laiq Honhaar Betay Hon....!!!!
Fakaat,
Tumhara Aur Sirf Tumhara
Abbu...


To EveryOne Its A Humble Request,
Don't Copy Things From The web...
EveryThing I Write I See My Things Been Share On Other Sites n Pages..
Itz a Request Not To copy n Paste By Ur Names Under It....!!!!
Regards
Aaliz Yaan